Case Study
Implementing a managed print strategy and the introduction of secure print software.
LOCATION
Multiple Locations across South London
INDUSTRY
Care
SERVICES
Providing care to vulnerable adults within 6 care homes operating across South London.
Objectives:
Mission Care were managing their own devices across all 6 of their locations, which was proving costly due to engineer call out charges and their unmanaged consumable usage. They wanted to partner with a reputable company to help them install new devices, as well as implement a secure print strategy.
Approach:
Reducing cost was a high priority for Mission Care, with that in mind OMM Digital provided a leasing facility so that mission care could spread the costs over a number of years, keeping the initial outlay to a minimum. We worked closely with Mission Care's IT provider to coordinate the new equipment and print management software. Keen to ensure a smooth transition and minimal disruption to each care home, we started with one location installing and providing user training before rolling it out to the remaining five locations. Security was also paramount for Mission Care due to the nature of their business, PaperCut MF was selected as a secure print management software due it's security, cost-tracking and waste management capabilities.
OMM Digital have been helpful in facilitating the planning and implementation of our new devices, what has been particularly helpful is their ability to communicate directly with our outsourced IT company. Throughout the process we have found OMM Digital to be easy to communicate with, providing a quick response to queries.
OMM Digital successfully installed 6 Canon devices on a cost per copy contract across all of Mission Care's homes. The secure managed print software has proven user-friendly and has successfully helped mission care keep track of their printing costs as well as adding an extra layer of security.
---
Case Study
Secure Managed Print
The Pointer School
LOCATION
London
INDUSTRY
Education
SERVICES
Providing private education from early years to key stage two.
Objectives:
The Pointer School were using several dedicated printers to manage the entire schools printing. They needed a secure solution due to the sensitive nature of the documents they were handling. Further to this they also needed to ensure that it would save them money on wasted printing and maintenance costs.
Approach:
After a consultation and a full print audit, OMM Digital proposed that they could route all of their printing through just two Canon multifunction devices. As secure printing was a high priority PaperCut MF was installed onto the devices, allowing users to print securely onto the devices using a secure code.
I am delighted to say, this has now proved to be very beneficial for Pointer School and I wouldn't hesitate to recommend OMM Digital to any other education authority or school.
By installing two capable MFD's Pointer School have benefitted from a reduction in the amount of print consumables used and wasted printing as well as a reduction in the cost of maintenance, as they were regularly paying out for call-outs and parts for antiquated machines. They are now able to use any device securely thanks to PaperCut MF robust software, and have greatly benefited from usage efficiencies.
---
Case Study
Secure Managed Print Solution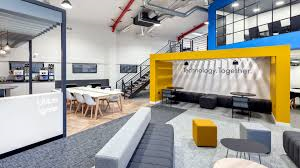 Utilize
LOCATION
Essex
INDUSTRY
IT Support
SERVICES
Leading IT support and services to businesses and organisations
Objectives:
Due to a planned move to a new location, Utilize wanted a managed print solution that would simplify the distribution of printed and scanned documents, whilst increasing security and reducing costs.
Approach:
OMM Digital carried out an initial audit of their current print environment, as well as built an understanding of how they wanted to work in the new premises. After a demonstration of the hardware at the Canon showroom we proposed a solution comprising the new Canon imageRUNNER Advanced C35 series along with uniFLOW for a secure print management solution.
I'd like to thank the OMM Digital team for the printing and scanning solution just implemented in our new premises. It has transformed the way we work with documents and given us the improvements in security we were looking for.
---
Warren Davies
CEO Utilize Plc
The Canon devices along with the uniFLOW solution offers greater control over the volume and cost of printing. Staff members now must authenticate themselves at each device to release print jobs, this has increased the security of printed documents within the business and avoids unnecessary waste or documents being left unattended. The simple scanning solution has integrated well with Microsoft 365 enabling documents to be shared throughout the business.